It's The Bert the Nerd Thrill Show!
Do you want your guests to be excited, thrilled and entertained? Are you looking for a safe, exciting, entertainer who can thrill the children without offending the adults (and vice versa)?
Bert the Nerd really sets his crowd on fire -- in a good way!
Bert's proven track record of over 30 years fills a stage with feats of skill, daring stunts and incredible magic -- and then he opens his suitcase!
Whether perched atop a unicycle flinging around knives and torches, walking a rope, or simply smashing crackers with a sledgehammer, Bert manages to command the force of gravity but gets mystified by his necktie.
On Late Night with David Letterman, Dave called him, "Inspirational," and Paul Shaffer was impressed by his brush with danger. Bert's powerful performance fills the stage with amazing skill in juggling and magic, hard-hitting comedy, audience participation, and refreshing spontaneity. Since touring for 3 years with Ringling Bros. and Barnum & Bailey Circus (in the USA and in Japan), Bert has been blowing away audiences -- in a good way -- the world over.
He's been spotted at corporate parties, colleges, Renaissance festivals, tourist spots, amusement parks, on TV on 3 continents ... even at the U.S. Vice Presidential Mansion!
---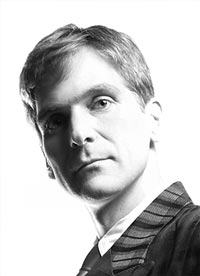 Rich Potter, the man behind Bert, left art school in 1986 and ran away with the circus, to earn an honest living. His artistic mind lives on in visual art, and theatrical pursuits which which have been enjoyed by audiences in 25 countries, and is co-producer of Clown Cabaret in Washington, DC, as well as co-creator of "Delusions of Grandeur," and "The Heist."